SHEET and TUBULAR PILING SOLUTIONS
ADSTEEL BROKERS can supply you with all your sheet piling and tubular piling requirements. We are the sole AUSTRALIAN AGENTS for the ESC range of sheet piling products. The ESC PILING solution offers custom design, prompt delivery and competitive prices. ESC Piles have been used extensively throughout the Middle East and Asia, as well as some limited use in Australia. Prompt delivery and quality production are the cornerstones of the ESC range of sheet and tubular piling solutions.
Click here to visit the ESC Pile website.
Click here to download the ESC Pile Catalogue (5.6 MB).
We also offer Hot Rolled Sheet Piles in a variety of section designs - enquire today.
Some Recent Projects:
- ADELAIDE PORT RIVER EXPRESSWAY - South Australia
2008
Quantity: 226 tonnes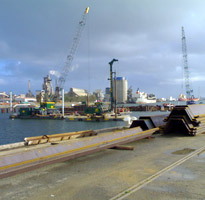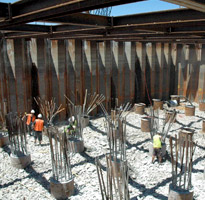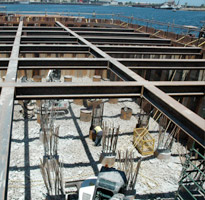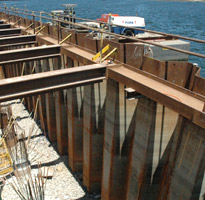 The bridge piers for the construction of the highway in the Port of Adelaide was proving a major problem. The AZ36 sheet piles installed by another subcontractor were proving to leak badly. Hence, ESC was approached to design a sheet pile to meet the watertight requirements and maintain the structural requirements of the Cofferdam.
ESC designed and supplied the ESC 36 BP S 355 sheet pile in 17 metre lengths. The clutches of the BP sheet pile were grouted providing a 100% water proof sheet pile Cofferdam. Abigroup saved not only money but time with the ESC design.
- Royal Botanic Gardens - Victoria
January 2010
Quantity: 250 tonnes of ESC-EU12 and EU16 piles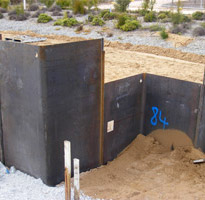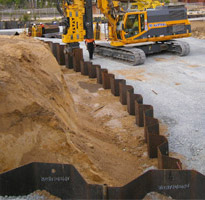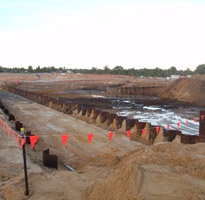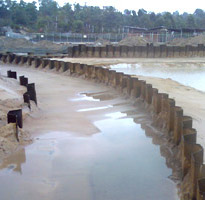 This project was originally designed using traditional hot rolled European piles, however with time pressures and tight budget constraints, ADSTEEL and ESC were able to offer a solution that not only met the tight time-frames of this landmark project, but also delivered significant cost savings. Because of their wider profile, the installation time was reduced significantly, meaning this part of this project was delivered on time, and saved the contractor further costs through reduced hire time of equipment.
- Convesso Concavo Development - Victoria
June 2010
Quantity: 100 tonnes of ESC-CR8 Cold Rolled
Offering extremely quick delivery times (including fabricated corner sections) the Cold Rolled series of ESC Piles were selected for this project. Just 8 weeks from purchase order to the availability of finished piles ready for driving meant the project commenced on time and on budget. Another example of how Adsteel and ESC's flexibility and commitment to customer satisfaction delivers real benefits to the customer.